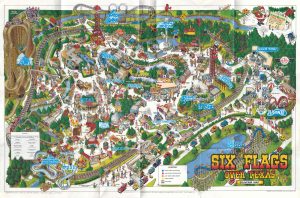 Thrill-seekers made their way to Arlington for 2017 opening weekend at Six Flags Over Texas.
The park opened Saturday for its 56th season this weekend and although the highly anticipated new coaster of the year, The Joker, has yet to open, people still made their way to experience the thrill.
Once open, The Joker will be the park's 13th coaster and will lift riders straight up a 12-story hill and drop them straight back down. The park has not yet released an opening date for the ride.
"Six Flags has a long history of innovation and bringing something new to the theme park industry," Park President Steve Martindale said last month. "The Joker is no exception. It's one of the wildest rides I've ever seen."
The new Galactic Attack Virtual Reality Coaster will be open for season-pass holders on opening weekend and for the public on March 9 in Arlington, a news release said. The attraction is the first of its kind and will give riders the chance to make decisions and battle to save the planet using Samsung Gear virtual reality headsets.
The park will be open on weekends beginning Saturday and will be open daily for a week during Spring break (March 9-19) before going back to only weekends. The park opens daily for the summer season in May.