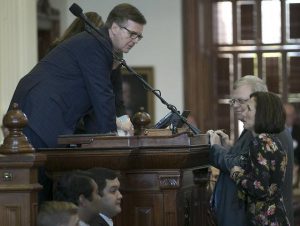 The Texas Senate on Tuesday tentatively signed off on the so-called "bathroom bill" on a 21-10 vote with one Democrat — state Sen. Eddie Lucio Jr. of Brownsville — voting in favor of the bill.
Senate Bill 6, a legislative priority of Lt. Gov. Dan Patrick, would require transgender people to use bathrooms in public schools, government buildings and other publicly-owned facilities that match their "biological sex" and not gender identity. And it would preempt local anti-discrimination laws meant to allow transgender residents to use public bathrooms that match their gender identity.
The vote on the controversial legislation came after a four-and-a-half-hour debate over discrimination against transgender Texans, local control and whether the proposed regulations would actually deter men from entering women's restrooms.
Before passing the bill, senators considered 22 amendments. Republican senators joined the bill's author, state Sen. Lois Kolkhorst, R-Brenham, in rejecting all but three amendments that make minor tweaks to the legislation but did not alter the main bathroom policies proposed in the legislation.
"Don't think I don't pray about this and make sure we're making the right decision," Kolkhorst said. "I think it is incumbent upon us to give guidance. The people of Texas expect boundaries between gender."
More than a dozen amendments were rejected including one that would have added discrimination protections for transgender individuals to the bill and another that would have prohibited individuals from personally investigating the gender identity of someone using a public bathroom. The Senate also rejected amendments that would have required the state to study the bill's economic impact as well as crimes that occur in bathrooms.
The floor vote came a week after a marathon hearing during which senators heard 13-plus hours of public testimony from hundreds of individuals, largely in opposition, before advancing the legislation to the full Senate.
The upper chamber must still give the legislation a final stamp of approval before sending it on to the House. That vote, known as "third reading," could come as early as Wednesday.
What's next
Patrick, who was the Texas chairman of Donald Trump's presidential campaign last year, has put what he calls "The Texas Privacy Act" at the top of his agenda. He has dismissed projections of business backlash and flew in his North Carolina counterpart to dispute what they claim are fake narratives of a similar law causing economic upheaval there.
Kolkhorst insists the proposal is about women's safety and not discriminating against transgender people and she repeatedly said Tuesday that former President Barack Obama forced the issue last year when his administration told public schools that students must be allowed to use bathrooms consistent with their gender identity. Trump has since rescinded that order, but Republicans insist the measure is still needed.
The proposal would next need the OK from the House — where powerful Republican speaker Joe Straus says he has no appetite for the bill he has likened to a job-killer. Straus has stopped short of declaring the bill dead on arrival but his public and repeated denouncements are significant.
Republican Gov. Greg Abbott has also yet to definitively take a public stance about the most high-profile bill in Texas this year. Abbott has taken broadsides at the NFL for wading into the debate but has not said whether the law is needed.
Boycott threats
The North Carolina law prompted the NCAA to pull seven championship events out of the state, the NBA to move the All-Star game from Charlotte and contributed to former Republican Gov. Pat McCrory getting voted out in November.
The NBA and NFL have lobbed similar warnings to Texas, but Republicans are undeterred. "I believe their threats are real. But I also have great concern about the NCAA, NFL, NBA you name it, dictating policy not just to this state, but any state," Kolkhorst said.
Microsoft, Intel and United Airlines are among dozens of companies that signed onto a letter that says the measure will hurt its ability to recruit top workers.
Texas is trying to follow North Carolina's law at a time when that state's new governor, Democrat Roy Cooper, is trying to repeal it. Cooper said in his first State of the State address this week that people are sick of the law and wondering whether "this heavy anchor weighing us down" will be cut away. But potential compromises with Republicans have crumbled since December.