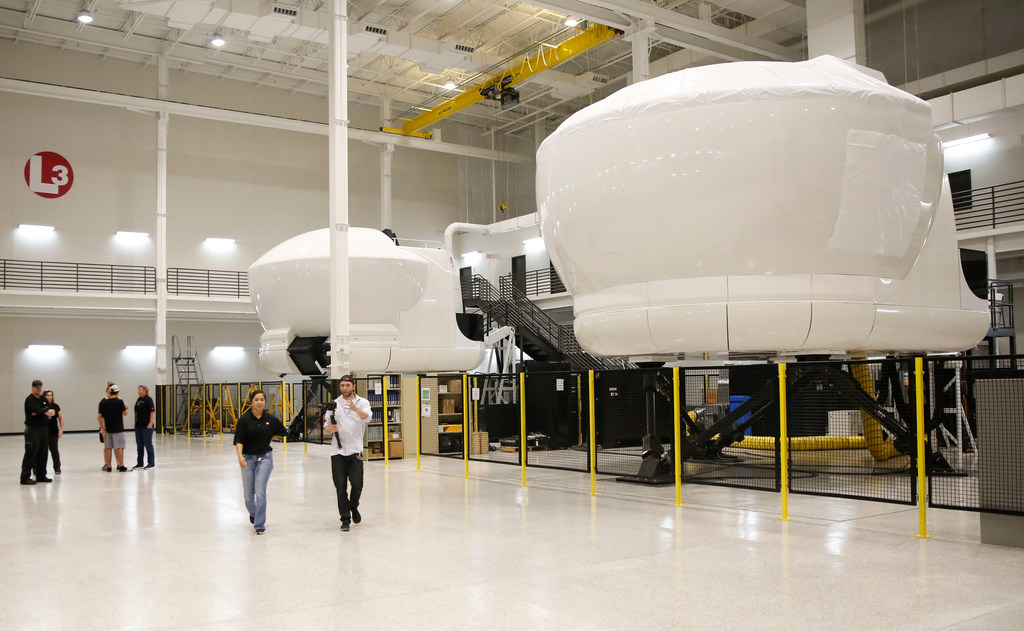 On nearly any given day of any given week, airplane and helicopter pilots from around the world can be found training in a nondescript building in Arlington in the shadow of AT&T stadium.

The cavernous facility is owned by aerospace and defense contractor L3 Technologies, which employs about 900 people at the site, and is home to six multi-million dollar flight simulators that operate for up to 20 hours a day.
But with demand for pilots growing worldwide — an estimated 790,000 new pilots will be needed over the next 20 years, according to Boeing — and many aircraft operators unable to afford their own simulators, L3 saw an opportunity to expand its business.
That culminated this month with the unveiling of a new 40,000-square foot expansion to L3's Arlington campus that will make room for six simulators while also adding classrooms and other training space.
The expansion marks continued investment in the region by L3, which employs nearly 10,000 workers in Texas, about a third of its total workforce. For Arlington, the facility means a unique link to the rest of the world, drawing in pilots from as far away as Singapore and Taiwan who spend days or even weeks training in the city.
"Over the last couple of years, we saw the need for training was so great that we decided to double the facility," said Lenny Genna, President of L3 Link Training and Simulation. "All this means more business across the company and more business across Texas."
Construction on the $7 million project began earlier this year and adds to a growing L3 campus that covers more than 200,000 square feet over several buildings.
In addition to training, L3 designs and builds flight simulators in Arlington that range in price from $1 million to upwards of $15 million, depending on their size, and are sold to customers around the world.
The simulators can be designed for training on everything from fighter jets to helicopters to commercial planes to unmanned drones, with customers ranging from foreign governments to private companies.
While the recent expansion won't add add a large number of jobs — the company told the city it expects to create about 80 additional positions — it will significantly increase the number of pilots who train and spend time in Arlington.
"They're staying at a hotel. They're eating out. They're doing the entertainment [activities]. And they have disposable income," Arlington Mayor Jeff Williams said Saturday at an L3 employee event. "When they go back to their country, they're talking about Arlington and the things they got to do here."
The city is providing economic development incentives as part of the expansion that include a property tax rebate worth as much as $30,000 and credits worth up to $80,000 total for new jobs created. Williams said the city also worked with L3 to streamline the design and permitting process to get the facility completed quickly.
New York-based L3 reported $9.6 billion in revenue in 2017 from it's business units, which include pilot training, aviation security, weapons, maritime systems and communication systems.