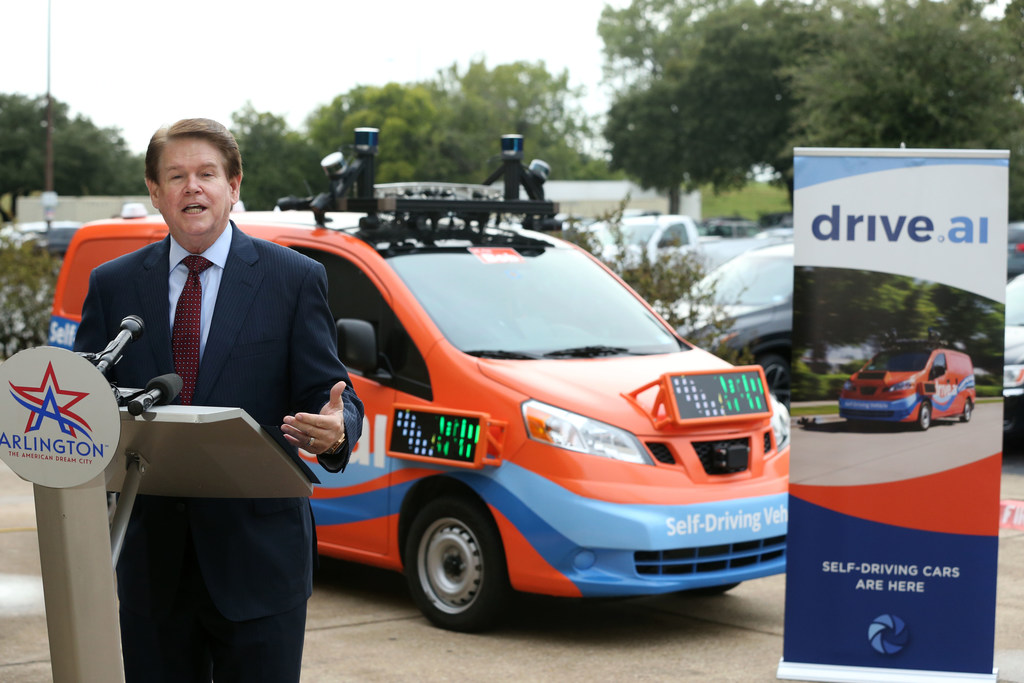 ARLINGTON — Self-driving vehicles, once limited to rides at Six Flags Over Texas, have busted off their tracks and taken to city streets.
On Friday, Arlington becomes the first city in North Texas to offer driverless shuttle service to the general public — not as a thrill ride, but as a step into the future of transportation.
The entertainment district that includes two pro sports stadiums, the city's convention center and Texas Live will now offer free on-demand shuttle service between 11 a.m. and 6 p.m. Thursdays through Sundays.
"It's an opportunity to make transportation safer and increase the quality of life for our residents," Mayor Jeff Williams said at a Thursday event to unveil the service.
The shuttles — vans outfitted with radar, cameras and sensors — will transport passengers between five pre-determined pickup and drop-off points. They follow pre-mapped routes but also recognize traffic signs and signals and other vehicles.
They won't exceed 35 mph and, at first, will be "manned" by a safety driver in the left front seat and a "customer service ambassador" in the right front. Other workers monitor the vehicles in a central operating room.
"We build a brain for normal cars so they can drive themselves," said Bijit Halder, chief executive officer of Drive.ai, the city's partner in the project.
California-based Drive.ai also teamed up for a similar project in Frisco, where a route launched in the summer transports employees at the offices of Hall Park to retail and dining options at The Star in Frisco. Both services use Nissan NV200 vans, a model Halder said is popular with taxi services.
An app to "hail" the vans in Arlington will debut next week. Passengers can also summon a ride at five kiosks within the service area. The rides are free.
"It is open to everybody. All you have to be is physically present in Arlington," Halder said. "You don't have to register or download the app. Frisco is only app-based. And we serve different routes" in Arlington.
For Dallas Cowboys home games, the shuttle will concentrate on a run between the CentrePoint office complex and AT&T Stadium.
Arlington lacks citywide public transit but had teamed up with the on-demand ride service Via, an app-based program that has no fixed schedule or routes, but serves a limited area. Via has made about 66,000 trips since the paid service debuted in December.
The entertainment district has been home to Milo shuttles, battery-powered self-driving cars that ran on trails at a maximum speed of 15 mph on event dates. That yearlong pilot program ended in August.
Williams said that like the Milo, he expects the Drive.ai vans to themselves be a destination in Arlington. Not only do techie families with kids want to experience the future, he said, but he's also amazed at how many seniors are drawn to ride autonomous vehicles.
From the back seat, passengers can see what Drive.ai cameras see, moving pedestrians as green boxes, parked vehicles as blue boxes and a stripe designating the van's path.

From Oct. 28 to 30, the city plans to make the Drive.ai service prominent as the Texas Mobility Summit takes place within the entertainment district.
"Arlington is on the move, making sure we stay ahead with technology," the mayor said. "That's automated vehicles, smart infrastructure technology, robotic devices and more."