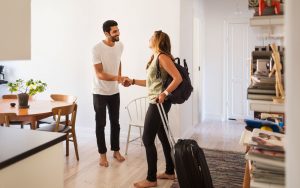 For travelers worldwide, home rentals such as Airbnb and VRBO have been a boon.
Rent a house or a room for a night or a week and get a kitchen and more space than you'd have in a hotel room.
What's not to like? Plenty, say neighbors who live next door to or down the street from a growing number of short-term-rental properties.
"Typically there could be anywhere from four to 10 or 11, 12 cars parked on the street," said William Ashton, who lives down the street from an Airbnb rental in the River Oaks addition of north Arlington. The home, which rents for $375 a night, sits about three miles from AT&T Stadium.
"It's not unusual for them to be hanging out on their front porch smoking and drinking beer and being loud," Ashton said. "Typically after a sports event, they'll come home somewhat intoxicated and disturb the neighborhood to the point where dogs start barking and neighbors come out."
Another neighborhood resident, Debbi Butler, was awakened in the middle of the night by her dog barking and discovered young adults going up and down the street knocking on doors and running away. They were staying at the same Airbnb house, where she said noise has been an issue on many weekends in recent months.
"I didn't even know what Airbnb was," Butler said.
The owner of the home, Charles Swafford of Arlington, said none of the neighbors have complained to him. He said that he has spent about $25,000 fixing up the house to make it suitable for use as an Airbnb and that using it as such is perfectly legal. He also wanted to list a home he owns in the master-planned Viridian community but was blocked by homeowners association rules.
"I don't think that's right to tell us how we can and cannot manage our own properties," said Swafford.
"This [River Oaks addition] property is in an older neighborhood and doesn't have any regulations. If [neighbors] want to have all of these regulations, they should move to a neighborhood with an HOA."
Such disagreements aren't limited to Arlington. Short-term rentals, typically defined as 30 days or less, have become an issue worldwide with the rapid growth of digital companies led by Airbnb and VRBO.
Cities across the U.S., from San Antonio to New York City, have grappled with regulating the industry. "Outside" magazine published a story in July titled, "Did Airbnb Kill the Mountain Town?" More recently, some have questioned whether short-term rentals have caused rents to rise in hip college towns.
Cities respond
In Tarrant County, both Arlington and Southlake are studying whether to write ordinances to regulate the industry.
Southlake council members discussed the issue at their Sept. 5 meeting, where several residents and homeowner association leaders expressed frustration about regulating short-term rentals. The city has set up a website to take input from residents and plans to discuss the issue again later this year.
During the Sept. 5 meeting, resident Olive Cannon said he had seen large groups and "lewd" behavior at one of the houses, which was being rented out on VRBO.
"It is horrendous what is happening there over the last couple of months," Cannon said.
Another resident, Trish Lowe, was shocked to see houses valued at more than $600,000 being rented out to weekend guests.
"These people are buying these houses to make money — I get it," she said. "But I don't want it by my house. I was so clueless. I don't think I ever thought of Southlake as a destination city."
Lowe and others complained about one VRBO property in their neighborhood being rented for $695 a night for up to 16 people. The owner, Pamela Holt, said she plans to sell the house.
Airbnb has 4 million listings in 191 countries. HomeAway, which includes VRBO, has 2 million rentals in 190 countries.
At Airbnb, neighbors can go to airbnb.com/neighbors to lodge a complaint. None have been filed against Swafford's property in Arlington.
Laura Spanjian, Airbnb's public policy director for the Southwest, said the company doesn't tolerate party houses.
"The overwhelming majority of Airbnb hosts and guests are good neighbors and respectful travelers, but when issues happen, we work to make things right," Spanjian said. "We have no tolerance for disruptive party behavior and we immediately ban guests from the platform as appropriate. Hosting is a big responsibility and those who repeatedly fail to meet our standards and expectations will be subject to suspension or removal from the Airbnb community."
Seeking middle ground
The Arlington City Council's Municipal Policy Committee is studying the short-term-rental issue and hopes to reach some decisions by the end of this year, said Councilman Michael Glaspie, the committee chair.
At its committee meeting Tuesday morning, a variety of options will be discussed, including some type of permitting to cap the number of short-term rentals. But Glaspie said committee members aren't close to a decision and may consider holding town hall meetings to gather more input.
"We have to sort through and see if there is a sensible medium somewhere along the way," Glaspie said. "I know there is growing concern about this in the neighborhoods. It's a challenge particularly with all of the attractions Arlington has for these major events. We're wrestling with it."
Philip J. Minardi, a spokesman for Austin-based HomeAway, said cities need to realize the stream of income generated by short-term rentals.
"We welcome the opportunity for dialogue with council members and stakeholders to address concerns and protect the rights of local vacation rental owners and the small businesses that rely upon a strong rental ecosystem," Minardi said.
Arlington Councilman Charlie Parker has received enough complaints in his north Arlington district to believe some type of ordinance is needed. He would like to see rules that limit absentee owners from renting homes.
"If the home has a homeowners exemption, then the homeowner has the right to rent their property for less than six months," Parker said. "In other words, if there's a Super Bowl, a World Series, Wrestlemania and they want to rent it to those people for a week, they have a right to do it. Then if there's a problem, the neighbors can come back to that homeowner with their complaints. Right now, if the owner of that rental lives out of town or out of state, the neighbors have no recourse."
During the last legislative session, state Sen. Kelly Hancock, R-North Richland Hills, filed Senate Bill 451, which would have prohibited counties or cities from banning short-term rentals.
The bill was opposed by cities including Fort Worth, Arlington and Austin. Supporters of the legislation saw it as a protection of property rights that would do away with a mishmash of local rules. It passed the Senate, but a House version of the bill died in committee.
Tipping point
Both Fort Worth and Austin already have some regulation in place.
In Fort Worth, short-term rentals are prohibited in neighborhoods zoned solely for residential use. Both Assistant Planning Director Dana Burghdoff and Senior Assistant City Attorney Melinda Ramos testified against Hancock's bill during the last legislative session.
In her testimony, Ramos said city officials were concerned about a "tipping point at which a neighborhood changes from being residential in character and becomes transient in nature due to the concentration of short-term rentals."
Fort Worth residents can apply for a special exemption to run a bed-and-breakfast in their home. For now, the rules aren't expected to be amended to include short-term rentals.
"We don't have any changes planned at this time, but the City Council could of course ask us to look at the ordinance in the future," Burghdoff said.
In Austin, the number of short-term rental homes with no live-in owners is capped and the city no longer takes new permit applications, according to The Texas Tribune. Austin has been sued over its regulations and Texas Attorney General Ken Paxton later joined the suit.
While many residents have complained about rentals in their neighborhood, some believe it is their right to do with their home as they wish.
False claims
During the discussion in Southlake, one resident, Larry Eveslage, argued that the city has no right to regulate what he does with his home.
"I'm against regulating my property rights," Eveslage said. "If there is a Super Bowl game, a playoff game — whatever — and someone offers me $1,000, $2,000, $3,000 for a weekend, why can't I do that? The purpose of government should be to do no harm. You're harming me if you take away my right to earn income."
Swafford, who is an airline pilot, said his north Arlington Airbnb is breaking even. With the improvements he has made, it's far nicer than when he first rented out the home to other pilots and flight attendants, which drew complaints from neighbors. That pushback eventually led Swafford to convert the home into an Airbnb.
He views any complaints about cars, noise or other issues as false claims to get him out of the neighborhood.
For his renters, the location serves as a popular location close to Dallas/Fort Worth Airport and an easy drive to either Dallas or Fort Worth. And then there's the attractions in Arlington. In 2015, Arlington had an estimated 14 million visitors, according to the Arlington Convention and Visitors Bureau.
"They get here and then they decide what to do," Swafford said.
He also takes exception to criticism that he markets his house, which is listed at 2,248 square feet by the Tarrant Appraisal District, to sleep as many as 17 people.
"I would say No. 1 — that's none of their business," Swafford said. "You go to any of the beach rental communities and you can rent a one-bedroom condo and they'll say it sleeps eight. It's none of their business how many pull-out beds or fold-out couches I have. That's none of their damned business. To me, it's un-American. You're trying to regulate what I can or cannot do."