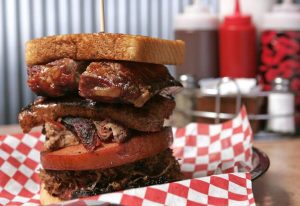 Spur 303 leads to barbecue's version of the promised land.
Legendary David's, landmark Coker's and a new Jambo's BBQ Shack now compete within one mile of each other, upholding this Arlington suburb's 40-year tradition as a go-to stop for modern or old-time barbecue, particularly pork ribs.
Jambo's is the newcomer. The Arlington-based partnership opened its third location this week in a familiar barbecue location on West Pioneer Parkway (Spur 303) at Bowen Road.
In part, it's familiar because that's where Coker's started 20 years ago before moving across the road. The log cabin-like building was built in 1966 as a cafe called the Ranch House before becoming several barbecue restaurants.
Jambo's brings a slightly more contemporary style to a city known for the oldest of old-school barbecue. David's continues the legacy of Red or Sonny Bryan's family restaurants, which date back to Dallas and 1910.
On a visit this week, Jambo's competition-quality ribs were sweet, peppery and every bit as good as those at the other locations in Rendon and west Arlington.
Jambo's is known for its towering, five-meat "Jambo Texan" sandwich, and a couple of Pantego customers stared wide-eyed at sandwiches a foot tall.
The 2-inch-tall pork chop draws a crowd on Fridays. But the secret highlight on the menu is the peach cobbler, flaky and fresh instead of doughy.
(I'd stop there for peach cobbler even if I weren't dining on barbecue.)
The new Pantego location replaces a short-lived Jambo's nearby on Little Road. That will be converted soon to Spooners Cafe, partner Ashton Stauffer said, serving burgers, homestyle cooking and weekend breakfast.
Jambo's is open for lunch and dinner Tuesday through Saturday at 2503 W. Pioneer Parkway; 682-213-2780, and also at 1724 W. Division St., Arlington, and 5460 E. Farm Road 1187, Rendon; jambosbarbequeshack.com.
(David's is also open Tuesday through Saturday at 2224 W. Park Row Drive. If you can't wait until Tuesday, Coker's is always open for lunch and dinner daily at 2612 W. Pioneer Parkway, cokersbbq.com.)
Back-street barbecue
Another worthwhile barbecue stop lies between Pantego and downtown Fort Worth.
Brown's BBQ is a 70-year-old barbecue stand hidden in a residential neighborhood along South Edgewood Terrace near East Rosedale Street.
(Edgewood is near the old light-rail trolley stop that gave the neighborhood its name: "Stop Six.")
Tony Brown's friendly take-out shop carries on the tradition of predecessor Floyd's BBQ, but adds excellent side dishes and new triple-decker bacon-cheddar burgers with one or two beef patties plus a layer of brisket.
If you think today's restaurants serve brisket with too much pepper or rub, Brown's is the place for you.. The tender brisket and ribs have smoky flavor without as much "bark."
This barbecue is so tender, Brown's serves it with only a small plastic fork — no knife.
Brown's also excels for collard greens (flavored with brisket), ranch beans (flavored with seasoned ground beef) and mac-and-cheese, along with desserts like a banana "pudding" cake.
Brown's is open for lunch daily except Monday and stays open until 7 p.m. Tuesday through Saturday; 1900 S. Edgewood Terrace, 682-552-9995.
Ready to be sacked
The new In the Sack in downtown Fort Worth is booked for a Tuesday opening.
The Dallas store is a grab-and-go food, wine and spirits shop offering quick, free delivery.
But the Fort Worth store has a much larger seating area, indicating In the Sack plans for diners to grab-and-stay.
The selection is limited but emphasizes locally sourced items with a few entrees, sandwiches, pastas and pizzas. Look for it daily except Sunday at 415 Throckmorton St.; inthesack.com.