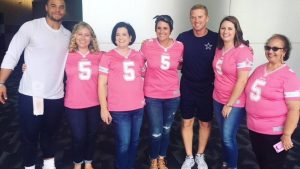 A year ago this month, Shackelford Junior High teacher Jade Laswell had her first-ever routine screening mammogram and was diagnosed with malignant tumor.
It changed not only her life and the lives of her husband and children, but also hundreds — maybe thousands — of people she'll never meet. Her courage even impressed the Dallas Cowboys.
Laswell, now 42, had a bilateral mastectomy last November, followed by eight rounds of chemotherapy and reconstructive surgery.
Despite the grim year — her reconstructed left breast developed sepsis, which meant three more rounds of surgery — Laswell had a dream come true Oct. 8 as one of five cancer survivors honored at halftime of the Cowboys-Packers game to mark Breast Cancer Awareness Month.
Though her husband, Dustin Laswell, coaches receivers for the Arlington High School football team, Laswell had never been to a Cowboys game at AT&T Stadium.
She was selected on the strength of her essay outlining her cancer story.
"We went to The Star in Frisco, attended a practice, met Jason Garrett and Dak Prescott," Laswell said. "For the Cowboys game we went out to midfield and were introduced."
A​ ​long​ ​process​ ​of​ ​healing
During treatment, the mother of four and 15-year teaching veteran continued to work and kept up her busy schedule as best she could.
"I would do it again. Know why?" she said during a Star-Telegram interview last week. "I was able to come to work and be with the kids again."
She likes to give her students something to think about that could help them later in life.
"So, cancer is scary. I get the kids aware; they all know my story," she said. "I hope I can show my kids not to be scared of a diagnosis. If you fight through and get treatment, you will survive.
Laswell has been cancer-free for a year and underwent her final chemotherapy treatment in March.
Helping​ ​herself​ ​through​ ​helping​ ​others
She created a Facebook charity called Craft Hope back in 2009, and published a book of the same name with Barnes & Noble for generous crafters to distribute their handmade blankets, crafts and toys to sick and needy people. So far the charity has distributed 160,000 items.
She never expected to be in the same kind of situation as those she's tried to comfort.
"When I was diagnosed last October, I felt bad," Laswell said. "I was frustrated. After all these years doing Craft Hope, collecting thousands of handmade items for others — and then I end up with cancer myself."
It wasn't long until Laswell turned her trauma into a terrific Craft Hope idea, collecting items for chemo care totes. She would hand out 30 totes at a time when she took her own treatments.
The bags contain items like caps, socks and throws, journals, coloring books and markers, lip balm and hand lotion.
She especially likes the chemo care totes for children, and her own children, ages 14, 12, 11 and 8, help her assemble them at the kitchen table.
"It was a great distraction, a great therapy, and for my children it changed the focus from worrying about Mom to doing something positive," she said. "One thing my daughter said was, 'It not only helps the person who receives it, but it helps the person who makes it.' "
For the youngest of cancer patients, superhero capes, sock monkeys, colorful blankets and pillowcases joined the usual items in the chemo tote.
"Kids with cancer are the greatest warriors," Laswell said.
An​ ​Arlington-educated​ ​educator
Laswell teaches career technology courses and Gateway to Technology, a prep class for high school engineering.
She is "a product of AISD schools." She played basketball while attending Tarleton State University in Stephenville. The Laswells live in Midlothian, and her three girls and one boy all play sports and are involved in other activities.
"You don't know what life is going to give you," Laswell said last week. "But I know I'm going to live every day to the fullest. I want my kids to see a mom who fights, and loves hard. That was the scariest thing, to think of my kids maybe having to grow up without me."
The challenges have brought her supportive family even closer together.
"I've always tucked them in at night," Laswell said of her children. "Now they've reversed the ritual and they insist on tucking me in at night."