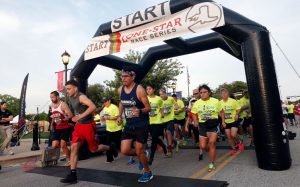 Calling all runners! Lace up your tennis shoes and race through downtown Arlington during the annual Lone Star Half Marathon, Mayor's 5K, and Para Invitational.
Race weekend will be kicked off with the Para Invitational Saturday, April 22, followed by the Lone Star Half Marathon and Mayor's 5K on Sunday, April 23.
The Lone Star Para Invitational is the only Pre-K through 12 UIL competitive track and field meet for children with physical disabilities in Texas. The Track and Field meet will be held in Arlington on April 22. One of the race sponsors, the Arlington Independent School District, will host the invitational at Cravens Field, 1400 W Lamar Blvd. in north Arlington.
"The partnership with AISD Athletics is very special to me for two reason; I grew up here and Coach Ozee, AISD Athletic Director, shares my passion for these student athletes," said race founder and director Shea Needham.
Athletes will have the opportunity to compete in either wheelchair or ambulatory divisions based on classifications made by trained professionals. After being classified they will be able to compete in as many events as the want ranging from shot put and discus to the 100 and 400 meter.
More than 850 racers are expected to come out bright and early Sunday morning for the Half Marathon and Mayor's 5K beginning and ending at the Levitt Pavilion. Runners will get a tour of the city going north to the Entertainment District through the Lincoln Square shopping center, then looping back to the University of Texas at Arlington's campus.
Early registration ends April 1 with race fees increasing by $10 after April 1. Registration ends the morning of the race and invitational. For more information, visit the event's website http://www.lonestarhalfmarathon.com.