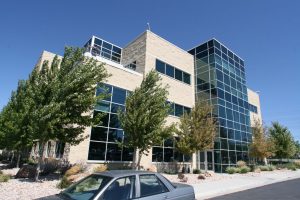 Vacant Arlington office space left behind by State Farm Insurance's recent consolidation in Richardson has attracted two companies.
General Motors Financial Co. and Epic Health Services leased more than 50,000 square feet of offices in the Bardin Pointe office building at 1351 E. Bardin Road.
The finance subsidiary of General Motors Co. is opening a call center in 46,228 square feet on the first floor of the building.
"State Farm moved and GM's deal was done quickly thereafter," Coldwell Banker Commercial Advisors DFW's Theron Bryant said in a statement. "There were several companies competing for this space.
"It's a rare opportunity for the landlord to be able to choose the tenant. The best terms and best credit were the dealmakers."
Epic Health leased 5,897 square feet in the building for a new pediatric therapy facility.
The two-story office building near Interstate 20 is now 96 percent leased. Ohio-based Hauck Holdings Arlington LLC owns the building.
Bryant and associate Casey Tounget leased the building in negotiations with Rick Hopwood of Hopwood Commercial Real Estate and Cribb Altman of Cushman & Wakefield.
State Farm Insurance has consolidated more than 8,000 workers into its new four-building office campus in Richardson.