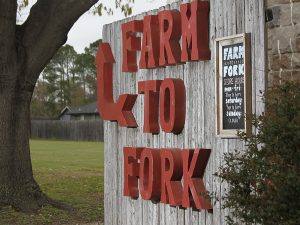 With the rise in organic lifestyles prevalent in the country, Karen and Tony Dotson saw an opportunity to provide Arlington and the North Texas area with a means of obtaining fresh, organic meats and produce and seized upon that prospect.
Having been shoppers at Farm To Fork Foods, the Dotsons purchased the local franchise from business owner Dan Grant, who had been operating the store in a house adjacent to his Texas Stone Designs, Inc., business on West Mayfield Road.
Having studied holistic nutrition and opened her own nutrition practice, Karen Dotson felt the time was right to offer an outlet that focuses more on local farms and farmers, rather than the nationwide farms that places like Whole Foods Market and Central Market use.
"Our primary focus is working with farmers that ranch and farm here in Texas within 200 miles of our store," Dotson said. "We also offer grass-fed and grass-finished, non-GMO feed from all of our suppliers.
"I know Whole Foods and Central Market offer some grass-fed and grass-finished things, but theirs are not necessarily local to Texas."
Among the meat products that Farm To Fork Foods offers are beef, bison, pork and chicken from farms as far off as Navasota (for Bull Dancer Bison) to 11 other farms in East and Central Texas.
She said they do try to bring the "best of the best" into the Arlington area.
One place in the city that has established a strong relationship with Farm To Fork Foods is the Viridian master-plan community in North Arlington.
Twice a month, on Thursdays from 5:30 to 6:30 p.m., Farm To Fork offers deliveries to the Viridian Lake Club for residents that order products in advance.
Viridian Marketing Coordinator Amanda Lusty says the popularity of the deliveries fluctuates, but they've been pretty positive for the most part.
"Farm To Fork is basically a grocery store with meats and produce," Lusty said. "It's usually more popular in the summer when people are looking to eat healthier, so the popularity is a bit cyclical."
Dotson said they have been pleased with the response from the Viridian residents, who have been excited whenever Farm To Fork Foods has done an occasional market with them.
One resident promotes Farm To Fork Foods to all of her friends and anyone she can, Dotson said.
"We do love our relationship with Viridian," she added.
Other popular products that the store offers are pure local honey from Sunnyvale; herbal tonics that promote everyday wellness; locally made olive oils; farm-fresh milk and eggs; spices and seasonings; and essential oils.
Dotson said there are plans in the future to expand the delivery services to door-to-door because they understand the convenience need for customers.
"We know everyone wants to eat the best they possibly can, but might not have the time to go to multiple stores," Dotson said. "We are literally not going to be just farm-to-fork, but a farm-to-you service."
Dotson said there are no plans currently to expand the store itself, however. She said Dan Grant has been extremely generous with offering a place for them to house their products, and has been most accommodating to all their needs.
"We are super-thankful to them for that," she said. "They've been amazing to work with. Right now, we are just thankful for our customer base and the people that do come to our store. We feel that people know about us, but we could probably reach more through our delivery."