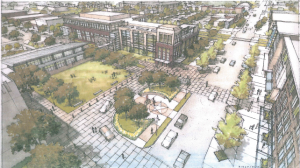 Downtown Arlington was alive Thursday afternoon as visitors gathered to celebrate the first phase of a $5 million redevelopment called Urban Union.
The activity is "exactly what city leaders want to see happen in the area," Mayor Jeff Williams said, adding that he would also like to see more restaurants, more live music, and more people living in downtown.
Business cohorts, visitors, and city leaders gathered at the new development Thursday afternoon for a ribbon cutting ceremony.
At full buildout, the development, which is bordered by Division Street, North East Street and Front Street, will have more than 100,000 square feet of new and renovated space, according to an Urban Union press release.
At the center of Urban Union's success is area developer Ryan Dodson, president of development for Dodson Development Company.
"Ryan has just raised the level of Division Street a whole, whole lot," Williams said. "We're pulling together trying to make dreams come true in our community."
Within the next few months, ground will break on a new bar and grill "beneath the oaks" called Tipsy Oaks Ice House, Dodson announced. Plans have been submitted to the City, and the place could open by the end of the year.
Legal Draft Beer Company – a 15,000 square foot brewery which debuted as the development's first tenant — has been instrumental in getting things going in the area, Dodson added.
Other tenants include Sugar Bee Sweets Bakery, Sleepy Cottage, Cearnal Co. Real Estate, Downtown Arlington Management Corporation, and Dodson's own company.
In March 2016, City Councilmembers approved a resolution to reimburse Urban Union $864,463 over three phases for the development project, which consists of a former Luke Honda Auto dealership and several blocks of adjacent property covering six-and-a-half acres.
Dodson told the Arlington Voice previously that because many of the buildings within the block were auto-related, the goal was to transform them into more creative spaces. They also will make landscaping improvements and bring additional public parking spaces, as well as decorative light poles, bike racks, and wheelchair accessible ramps.
Phase one features approximately 30,000 square feet of renovated space in three buildings along East Front Street. Ground recently broke on a new multi-use plaza adjacent to Legal Draft, which will host farmers' markets, festivals and other outdoor events.
Phase two, which is scheduled to break ground later this year, is expected to bring restaurants, co-working space, a yoga studio, and a patio bar. Multiple new leases are expected to be announced over the next few months, and up to 30,000 square feet of new space will be added over the next two years.
As a requirement for the City's Tax Increment Reinvestment Zone reimbursement, Urban Union must achieve a minimum ad valorem value of $2 million by Jan. 1, 2020, and remain at that level or higher for five years.