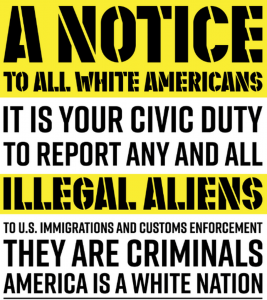 Fliers posted Monday at the University of Texas at Arlington that urged white Americans to report "any and all illegal aliens" to federal authorities were a weak attempt to harm the diverse campus community, a student group leader said.
A website for the white supremacist group Vanguard America and a phone number for Immigration and Customs Enforcement were also on the fliers, which were removed later Monday. It was not clear if the group posted the fliers on campus.
Mark Napieralski, president of the UTA Progressive Student Union, which aims to "give students an active voice on campus, as well as a means to exercise that voice," said white supremacist groups may see UTA — which U.S. News & World Report ranks fifth among national universities for undergraduate ethnic diversity — as a threat to their ideology.
Naplieralski said students shouldn't take such attacks personally because groups like the Progressive Student Union will stand up and fight for them.
"UTA is the fifth-most-diverse campus in the nation for a reason and we will treasure and celebrate this diversity and we will defend it," Napieralski said.
The fliers were removed because they did not meet the criteria in the campus' posting policy, which includes approval by the Office of Student Activities and Organizations, a university spokesperson said.
"We are proud that UTA is a place of learning and as an institution of higher education, we expect high standards of civil discourse," the spokesperson said.