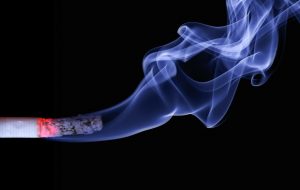 The Arlington City Council introduced new regulations on smoking and e-cigarettes in its bid to turn Arlington into a "100 percent smoke free" city.
In January, a Council sub-committee began evaluating ways in
which Arlington's smoking ordinance could be further developed to "promote public health."
Arlington's smoking provisions are found in Article X of the Health and Sanitation Chapter of the Code of Ordinances. Smoking is currently prohibited in most public places and private businesses.
Arlington's Health Services Manager Aimee Rockhill-Carpenter explained that receiving a "100 percent smoke free" designation means a city removes exceptions from its smoking ordinance.
On Tuesday, the Council fielded considerable citizen feedback before voting 6-3 to add bars, billiard halls, sexually oriented businesses and other past exceptions into the smoking ordinance; with a special exception made for bingo parlors.
Some residents, as part of a coalition, wore shirts with "Smoke Free Arlington" printed on the front. Several members suggested passing a stricter ordinance would "prioritize the health of Arlington's workforce."
"As a practitioner and former cardiac nurse, I've seen the dangerous impacts of breathing secondhand smoke," said Holly Hyde, a nurse practitioner with an ear, nose, and throat doctor in Arlington. "Comprehensive smoke free ordinances save lives."
According to a staff report, 67 cities in Texas have passed regulations to become "100 percent smoke free." Thirty-one cities have established rules governing e-cigarettes.
The Council's vote Tuesday evening also adds e-cigarettes to its ordinance, which, according to staff, will be restricted like any other smoking device.
Ten speakers and 34 non-speakers showed up in support of the changes. The Coalition for a Smoke Free Arlington presented a petition with 50 signatures to the Council.
Donna Darovich, president of the MPAC group, spoke favorably of the changes. Her woman-led political action committee represents 50 members.
"Being smoke free is more than directly protecting the health of every worker in the city," Darovich said. "It's about living up to Arlington's reputation as a safe, progressive, impact community."
But those in support were met with significant opposition, as 16 speakers and 30 non-speakers registered in opposition to the changes.
Members of the Arlington Lions Club, Masonic Lodge, and Elks Lodge all warned the Council that amending the smoking ordinance would consequentially affect funding received by non-profits from the bingo parlor community. George Paradise, past president of the Elks Lodge, estimated those charitable contributions could annually reach $500,000.
"If anyone is so sure that there will be no negative effects, will they stand up and guarantee the income stream to the charitable organizations from their own wallets?" asked Thomas Martin, President of the Greater Arlington Lions Club.
Several council members shared the non-profits' concerns for their income streams. District 3 Councilman Robert Rivera, who serves on the Texas Lottery Commission, pointed out that state regulations mandate the percentage of revenue bingo parlors must donate to non-profits, and that restricting their business would invariably effect non-profits.
With the help of Councilman Robert Shepard, he introduced a motion to carve out an exception for bingo parlors. But just before voting on the motion, Councilwoman Sheri Capehart interjected with an emergency motion to pass the ordinance as proposed, which failed in a 5-4 vote.
Even with the exception, Arlington will still qualify as a "smoke free city" because bingo parlors are regulated as gambling facilities by the state.
"Let's not let this issue divide us," Mayor Jeff Williams said at the conclusion of the vote. "This is a big step as we move forward. I appreciate what everyone has done to move Arlington toward becoming a smoke free city."
If adopted at the second reading, affected businesses will have 60 days to comply with the revised ordinance.