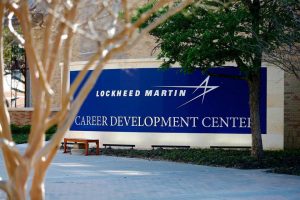 With much of its workforce at or near retirement age, defense contractor Lockheed Martin is looking to strengthen its ties to a critical pipeline of young engineers and other talent.
Officials on Monday plan to announce a $1.5 million joint gift from the big defense manufacturer, which has facilities in Fort Worth and Grand Prairie, making Lockheed the name sponsor of the University of Texas at Arlington's Career Development Center. It opened in August in the E.H. Hereford University Center, 300 W. First St.
No changes to the career training and guidance programs — which serve students of all academic disciplines at the university — are expected as a result of the name change to Lockheed Martin Career Development Center.
It's more about branding, said Joe Stout, spokesman for Lockheed Martin's Missiles and Fire Control division, which is based in Grand Prairie.
"The reason we're doing it is to be a good corporate citizen," he said. "And we like the idea that the students will see our name as they're preparing to enter the workforce."
In demand
Nearly 1,400 UTA graduates currently work for Lockheed Martin Aeronautics, headquartered in Fort Worth, which builds the F-35 fighter jet, and for Lockheed's complex in Grand Prairie, which works on mobile missile components and military ground vehicles.
Bruce Tanner, executive vice president and chief financial officer of Lockheed Martin Corp., based in Bethesda, Md., has an MBA in finance from UTA.
Baby boomers make up the majority of Lockheed's workforce, which totals 13,400 workers in Fort Worth and 2,500 in Grand Prairie.
That aging started years ago, partly as the result of the 2008 recession, "which kept more people at work," said Robert O. Brown, human resources director at the Grand Prairie plant. But also, he said, "people really enjoy the work and work long past retirement age."
With a focus on hiring engineers and other professionals as younger graduates, Lockheed expects a shift to mostly millennials in its workforce in the next five to 10 years, Brown said.
UTA will be key to that transition.
"We cast wide nets," Brown said. "But what we have found is that the local universities provide critical flow talent."
Preparing career paths
The career center director, Lolin Martins-Crane, said the Lockheed name will "completely elevate" its mission.
"I think it gives it even more credibility than it's had in the past," she said. The partnership, she believes, "means Lockheed really believes in UTA and the center and especially the students."
The Career Development Center moved from a low-traffic space in Davis Hall to the much higher-profile Hereford Center last August after a $6 million renovation. Its mission is to reach students as early as their freshman year and help them focus and prepare for careers in their degree fields.
Martins-Crane, who is a UTA alum, has a staff of 14, including five part-timers, that carries out a dual strategy. Career consultants work one-on-one with students while another team works with employers, involving them in workshops, mock job interviews and information sessions.
Focus also is on internships and programs that develop teamwork and critical thinking.
"We're really building experiences for freshmen and sophomores, so right off the bat they are already exploring and trying to discover what their career is going to look like," she said.
More than 9,000 students used the career center and its services during the fall semester, she said.
Martins-Crane was hired as director in September, just after the grand opening of the 10,000-square-foot center.
She calls it "a major outward sign" of the university's commitment to its graduates.
"It just screams that we believe in career development at UTA," she said.