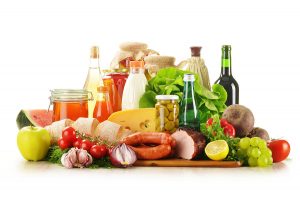 Nearly everything Mickie Jobe used to buy at a store — hazelnut coffee creamer, laundry soap, electronics, you name it — she now purchases online.
"My goal is to do everything online because I really hate shopping," said Jobe, a math teacher at Fossil Hill Middle School in the Keller school district.
With a few touches of her smartphone, she buys groceries online at Wal-Mart and then picks up her order outside a store in her far north Fort Worth neighborhood, without ever going in. Just about anything she can't get at Wal-Mart she buys with her Amazon Prime account, which offers free shipping to her doorstep.
For years, technology has allowed consumers to buy products such as books, music, clothing and electronics online. Now, increasingly, Americans can also fill their pantries and refrigerators without entering a supermarket, and North Texans such as Jobe are at the forefront.
Jobe, a wife and the mother of two grown sons who for years dreaded spending time in crowded grocery aisles, can now go a month or more without darkening the door of a brick-and-mortar store.
"It makes me wish I had these services when we had younger children," she said.
Traditional retailers and e-commerce giants are expanding digital services in a big way.
Within weeks, Amazon is expected to launch its Amazon Fresh service in North Texas from a new fulfillment center near Fort Worth Meacham Airport. Already available in places including Washington state, California and New York, Amazon Fresh offers home delivery of meats, dairy goods, produce and other perishables for a $299 annual fee.
Amazon officials have declined to comment on their plans for their newest Fort Worth distribution point, but a construction permit on file with the state says the company intends to use it for delivery of groceries.
Last week, CVS Pharmacy joined Kroger, Wal-Mart and many other retailers offering customers the ability to order items online to be delivered to their cars in specially marked parking spots at designated times. Kroger's ClickList online shopping system, for example, is now available at 13 Dallas-Fort Worth stores, including one in North Richland Hills that can handle 400 orders per day. The service will soon be rolled out at five more stores, a spokeswoman said.
A handful of companies such as Blue Apron and Green Chef are offering home delivery of fresh, organic ingredients for gourmet meals — often for less than $12 a plate. The customers still have to do the cooking, using measured ingredients and recipes that typically take 30 minutes — but at least they don't have to think up the recipe themselves, or do the shopping. Everything they need arrives at their doorstep in a cardboard box.
There's even an Uber-like app for groceries. The maker of a smartphone application called Shipt said this summer that for a $99 annual fee it would serve as a designated shopper for customers at Central Market and Kroger stores in Tarrant County. Essentially, the customer submits a list of desired items and pays for them, and a Shipt worker visits one of those stores, buys the goods and delivers them to the customer's home.
'Big data'
Several factors are behind the sudden emergence of online grocery shopping, experts say. One big reason is the proliferation of smartphones, which make it possible to easily order whatever products you need.
Also, merchants are becoming strikingly good at gathering "big data." Using computer analytics, they compile enormous amounts of information about each customer's buying habits, enabling them to give each customer precisely what he or she wants. For example, grocers can offer coupons tailored to each customer's preferred brands, or send messages reminding a shopper that it's time to reload on paper towels or dog biscuits.
Jobe, who lives in north Fort Worth's Summerfields neighborhood, is a regular customer at the Wal-Mart Supercenter at North Beach Street and North Tarrant Parkway, but she almost never goes into the store. In fact, she doesn't leave her car.
Instead, she orders online, and at the designated pickup time she drives to a designated area toward the back of the store, where an an employee delivers her goods and places them in her vehicle while she waits in the driver's seat.
Wal-Mart has offered the free curbside pickup at eight D-FW stores for about a year. Jobe also occasionally buys products at CVS, which began offering customers curbside delivery this week.
Buying sight unseen
While companies such as Amazon have revolutionized the home delivery of many goods — and put many bookstores and other retailers out of business — grocery shopping has remained a mainstay of the brick-and-mortar store.
But those who follow consumer habits say the trend is quickly shifting.
Online purchasing still represents less than 5 percent of overall grocery sales in the U.S. but is expected to grow about 10 percent annually, making it a $9.4 billion industry by 2017, according to Fortune magazine.
More than a third of online shoppers worldwide are expected to buy groceries at least once on their computer devices this year, according to an AlphaWise survey from Morgan Stanley Research.
More people are willing to buy fruits, vegetables, milk, meats and other perishables sight unseen, which not long ago was thought to be a barrier to online shopping. To assuage concerns about quality, many merchants advertise that customers will receive the best selections of each item when they use online services. At Kroger, for example, customers can specify whether they want their bananas green, yellow or ripe.
Also, although many retailers charge for online orders, they offer coupons and promotions that often make up the difference. And in some instances, the regular price of online goods is cheaper than the posted price inside competing stores.
Family first
The concept of online grocery services is nothing new. In the late 1990s and early 2000s, companies such as PeaPod and Webvan launched in North Texas, promising same-day grocery delivery. But the services didn't last long. Webvan, which during the dot-com bubble had a peak market value of $1.2 billion, broke up in a well-publicized 2001 bankruptcy. PeaPod also pulled out of North Texas, although the company still offers home delivery in a limited number of densely populated markets.
Today's wave of online grocery shopping seems to have staying power, as customers realize it's a way to save at least an hour per week while also providing their loved ones with healthier meals, said Sarah Roche, a Texas Wesleyan University associate professor of marketing who closely tracks consumer trends.
"This is an outgrowth of our attitudes toward convenience, where we can cut ties with tasks and routine things and spend our time how we really want to," Roche said. "When people eat healthy, they can feel good about not skipping out on family duties. Going grocery shopping has always been connected to your family, and showing them you care about them."
No small investment
For grocers such as Kroger, the goal is to stay ahead of digital trends in the next few years without losing ground to Amazon and other competitors. Kroger has the advantage of already having a long relationship with its customers, so theoretically it can keep competitors such as Amazon at arm's length by offering high-quality online ordering services at its existing stores.
It's no small investment. A Kroger Marketplace in North Richland Hills began offering the ClickList online ordering system in late August. But before the service could be launched, the company had to install a checkout area, walk-in coolers and walk-in freezers in a designated back part of the store that isn't open to the public.
There, up to 20 employees work at a time, filling up to 400 orders per day. Goods that can be stored at room temperature are placed in crates, while items that must be refrigerated or frozen are stored in coolers. Everything related to a customer's order is labeled with a computerized scanning code.
Kroger's ClickList requires customers to submit orders a day in advance and pay a $4.95 fee, although the fee is waived for the first three orders for new customers. When it's time to fill an order, Kroger employees use special trolleys and handheld computer devices to gather items from store shelves. Pretty much everything in the store can also be bought online.
Kroger's ClickList software knows the precise location of virtually every item in the store. As a result, a ClickList employee can walk the store aisle by aisle, using the computer's directions, and fill up to six online orders at a time in minutes.
The rollout of ClickList and curbside pickup is probably just the beginning. Kroger is also considering adding home delivery in the near future, said Kelly Carroll, the company's e-commerce manager for the North Texas region and Shreveport.
"I think Kroger is definitely looking at the digital arena and how we can communicate more with our customers," Carroll said.
Many customers who use ClickList still occasionally go inside the Kroger store, she said.
"What we're seeing is definitely both," she said. "What we're seeing in ClickList is, they use the service for their big shopping experience one time a week. It's a big cart we're seeing through ClickList. When they come inside the store, they're picking up essentials they have to have the next couple of days. Maybe picking up milk. And, maybe they see the Halloween displays and the candy and they're grabbing those."
Two babies, one cart
The convenience factor is obvious in the ClickList curbside pickup area, particularly for seniors, people with disabilities and young moms such as Courtney Sparks of Keller.
On a recent afternoon, Sparks arrived at her designated pickup time and popped open the hatch of her minivan. A Kroger employee loaded six grocery bags into the vehicle, swiped Sparks' credit card and sent her on her way.
The whole process took less than three minutes. Sparks stayed in her van, and her two young children remained peacefully in their car seats.
"I love it," Sparks said. "I have a [newborn] baby and a 15-month-old, and there's no way I can get them both into one shopping cart."