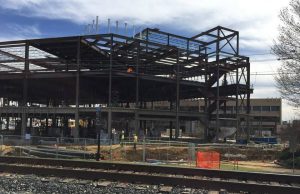 A brown metal skeleton of a building is rising from what was a large parking lot behind City Hall.
Construction, which started last July, is bustling as the building has reached three stories in height.
It's likely left many a passer-by curious.
What's it going to be? The new George W. Hawkes Downtown Library.
The $30 million, 80,000-square-foot library will replace the 44-year-old central library of the same name (except "Downtown" has now replaced "Central"). It was demolished in late 2015 to make room for the 101 Center mixed-use development now under construction next door.
"It's beautiful, bold and amazing," said Library Services Director Yoko Matsumoto, whose office in City Hall overlooks the construction site. "It's a really fun project to watch go up."
From her vantage point, the building will be a wonderland of new services, more meeting space, more technology — features of a state-of-the-art community gathering place. Nothing like the old library.
So when is the library going to open? June 2018.
But there's still some funding needed. The project budget includes $22 million in tax-supported bonds for the construction but also needs $8 million in community-raised funds for some interior finish-out as well as furnishings, equipment and technology.
The Friends and Foundation of the Arlington Public Libraries is conducting the capital campaign, which early on landed a $4.1 million contribution from the Arlington Tomorrow Foundation. About $1.5 million has been raised so far toward the remaining $4 million goal.
In the meantime, Matsumoto will be spreading the word about what's in store for the community.
"The goal is to paint a picture of what new library services are," she said. "I think the majority of people think libraries are just older buildings that hold books. Books are still very key, but there is also much more to libraries than what [the older ones] offer now."