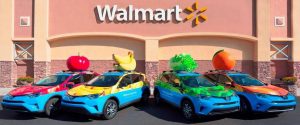 Unwilling to let Amazon take a bigger bite out of their grocery and household item sales, Walmart and Target are stepping up their presence in the fast-growing field of online ordering.
Walmart disclosed this week that it is now offering a grocery delivery service to homes in certain parts of the Dallas area, in partnership with Uber. Although that service isn't yet available in Fort Worth, two other services aimed at tech-savvy customers (and that's nearly all of us, right?) are being tested at Walmarts on the west side of the Metroplex.
Inside a Walmart Supercenter at 9500 Clifford St. in northwest Fort Worth, customers can retrieve online orders at a giant "Pickup Tower" — which resembles a 16-foot-tall vending machine — at the front of the store, bypassing the customer service desk. Also at that store, as well as a second Supercenter at 1836 S. Main St. in Weatherford, Walmart is testing a "Scan & Go" service that allows shoppers to scan their own products as they walk the aisles, pay for their goods online and skip the checkout lines.
Target, meanwhile, has launched a test of its new service, Target Restock, throughout Dallas-Fort Worth and in Denver. Restock allows customers to buy non-perishable foods and household items (whatever fits into a box with a 45-pound capacity) and have them shipped to their homes the next day for a flat $4.99 delivery fee. Target Restock competes directly against Amazon's Prime Pantry service.
The emphasis on digital customer service is changing job responsibilities at Walmart, spokeswoman Anne Hatfield said. The company now employs "personal shoppers" who are trained to select the nicest cuts of meat and bruise-free produce as they walk the aisles filling orders for online shoppers with an emphasis on quality control.
"This is their entire job. They have gone through special training so they can shop and pick up and put together these orders for online grocery pickup," Hatfield said. "We are handling these orders with care."
In-store improvements
At the Walmart Supercenter at 9500 Clifford St., near where Fort Worth meets White Settlement, shoppers are greeted by a 16-foot-tall orange "Pickup Tower." Customers who have placed orders online can pick up their items at the tower by simply scanning a bar code sent to their phone.
The merchandise pops out of the tower "like a vending machine," Hatfield said.
In the Dallas area, customers can now place orders online and, for a $9.95 delivery fee, Walmart will have an Uber driver deliver the groceries to their homes. The test market includes eight stores in Dallas, Plano, Lewisville and other cities on the east side of the Metroplex. Shoppers can plug in their ZIP code on the Walmart website to determine if their neighborhood is eligible for Uber grocery delivery.
To promote the service, Walmart has several cars driving around Dallas topped with oversized objects of produce.
Walmart also offers curbside grocery pickup at several Fort Worth-area stores, and will begin offering curbside pickup at a store at 6300 Oakmont Blvd. in September. Stores that already have curbside pickup include: 3773 Clifford St., 4536 Heritage Trace Parkway, 7800 Summer Creek Drive, 8520 Beach St, all in Fort Worth; and 1836 S. Main St. in Weatherford.
Hot competition
The moves are the latest effort by the retail titans to win back some of the grocery business taken by Amazon, which last year launched its AmazonFresh service in much of Fort Worth, Arlington and Dallas. Amazon also bought Whole Foods for $13.7 billion earlier this year to give its company a brick-and-mortar supermarket presence.
Kroger, Tom Thumb/Albertson's, CVS and many other retailers have also expanded curbside services, allowing customers to place orders online and pick up goods without leaving their car.
And there is even a phone app called Shipt that allows customers to place orders at either Kroger or Central Market and have the goods delivered to their home.
The recent increase in online shopping for groceries comes as retailers improve their ability to gather data about what customers want. By 2025, online grocery shopping could grow to $100 billion in annual sales nationwide, five times its current size, according to research by the Food Marketing Institute.