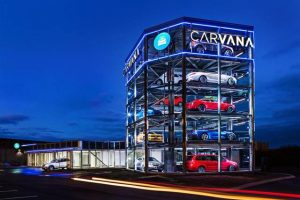 Ernie Garcia believes getting a used car should be as easy as buying a bag of chips.
That's why the company he co-founded more than three years ago, Carvana, has built multi-story buildings resembling oversized vending machines in several cities — one is currently under construction along Sam Rayburn Tollway near Legacy Drive in Frisco — making it possible for customers to drop a coin in a slot and watch their newly-purchased used car delivered to them on a robotic lift.
For those who don't want to bother with the car vending machine, Carvana offers another perk: free delivery of the car or truck to your home.
Either way, the point is to offer customers a way to buy used vehicles completely online, with no need to ever visit a dealership. It's an increasingly common sales method, as dealers compete for customers in the quickly growing used-car niche.
"Getting a new car is fun. The experience of buying it is not fun," Garcia said in a phone interview, describing his motivation to start the company, which began in Arizona in 2013 and has since expanded to other states, including Texas, Alabama, Tennessee, North Carolina, Georgia and Florida.
By eschewing the traditional sales lot and instead listing the company's inventory only online, Garcia said, "Customers get their choice of 7,200 to 7,300 cars instead of on a lot that might have only 100 to 300 cars to purchase."
Carvana now serves at least 21 markets, including North Texas. To serve its online customers, the company reconditions vehicles at three distribution centers nationwide, including one in Blue Mound, just eight miles north of downtown Fort Worth.
The Blue Mound center is located in an industrial area not intended to be open to the public, and has hundreds of cars stored on several acres of otherwise nondescript property with a warehouse owned by DriveTime, another used-car retailer.
DriveTime, which is known for selling autos to customers with troubled credit, has a small ownership stake in Carvana, but the two companies operate separately, a Carvana official said.
The Carvana cars and trucks that are reconditioned in Blue Mound (or its other distribution centers in Georgia and New Jersey) are typically not seen by customers until they are bought. Customers can return them in seven days and rip up their contract, if they change their mind about the vehicle.
Changing industry
While the vending machines and the free home delivery are attention-grabbers, it's the online purchasing process that is dramatically changing how used-car dealers do business.
Other companies such as Vroom specialize in online purchasing, and competitors such as AutoNation and CarMax offer online services as well.
Even traditional brick-and-mortar dealers, such as the new Allen Samuels Direct dealership that held its grand opening last month in Euless, are now selling used cars with perks. That dealership specializes in selling used cars with fewer than 10,000 miles that are under factory warranty.
Dealers now aim to enter into a long-term relationship with used-car buyers by providing routine maintenance and other services, potentially for years after the car is driven off the lot.
"A lot of us are selling the experience," said Don Herring Jr, vice president of Don Herring Mitsubishi and past president of the Dallas Fort Worth Metropolitan New Car Dealers Association.
"The information on the internet is so good and so competitive that used-car dealers cannot be profitable competing on price alone, but must compete on service to the customer," Herring said. "It's this competition that leads to all of us striving to provide a unique experience that's of value to the customer. This unique experience may be a vending machine, home delivery, free service or protection for the vehicle, etc."
While new car sales have grown steadily the past two years — with a record 17.55 million vehicles sold last year and 17.47 million new autos sold in 2015, according to Autodata Corp. — used car sales have kept pace. Used cars and new cars have each grown by about 6 percent annually for six straight years, according to a 2016 report by Manheim, a car auction firm.
The average age of cars and light trucks on U.S. roads is now 11.6 years, according to IHS Markit, a Colorado-based firm that analyzes auto sales figures.
Just three years ago, the typical car on the road was about 10 years old.
The main reason for the increased staying power is that cars are simply made better compared to previous generations of vehicles, said Mark Seng, director of global automotive aftermarket practice at IHS Markit.
"Increasing numbers of vehicles on the road builds a new business pipeline for the aftermarket," Seng said. "A larger fleet means more vehicles that will need repair work and service in the future."
The strongest demand is for cars 1 to 4 years old. By 2021, IHS Markit forecasts that vehicles in this "gently used" category will grow by 16 percent, while the availability of vehicles 6 to 11 years old will grow just 5 percent.
Blue Mound magic
Hundreds of vehicles per day are fixed up at the Blue Mound facility, which specializes in cars that are fewer than 5 years old and accident-free.
Workers knock out dents, apply paint and often install new tires. Once the cars are in showroom shape, they are taken to a special room known as the "hot house," where a panoramic camera photographs just about every inch of the interior. They are then taken to the "roundhouse," a dome-shaped room where a turntable gently moves the car in a circular motion while its exterior is photographed.
All that work is done so that the customer visiting the Carvana website can view panoramic images of whichever vehicle he or she is interested in. The photography highlights not only the positive features of each car, but also any flaws, as a way to demonstrate transparency to the customer.
Online customers also can apply for financing on the website. For a customer with a good idea of what he or she wants, the entire process can take less than 20 minutes.
Carvana operates on "no haggle" pricing, but the company boasts it can save customers roughly $1,500 by selling cars online without a dealership.
Customers can also trade in their vehicle by filling out appraisal forms online. When their new vehicle is delivered on a special Carvana flatbed truck, the driver can then load the trade-in vehicle and take it away.
Typically, cars stay at the sprawling Blue Mound lot until they are bought, although Carvana does regularly ship cars among regions on 10-vehicle trucks, Garcia said.