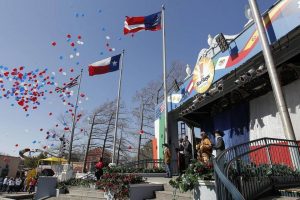 Texas Agriculture Commissioner Sid Miller, to put it mildly, is not happy about Six Flags Over Texas removing the Confederate flag and four others from several of its amusement parks.
Calling the decision "a sad day for Texas and all of America," Miller said in a statement released Monday that he was disappointed to see the company "succumb to this scourge of race baiting, liberal activism."
"The bringing down of these flags as well as the removal of our historical monuments around the country is just another act of appeasement to the intolerant, liberal, and oftentimes violent left who strive to establish a false narrative where our state's and nation's history is one dimensional. It is not!" Miller said.
Miller said he's concerned about "the militant, anarchist movement sweeping the country," a trend that "very well could eventually bring down the American flag."
THE BRINGING DOWN OF THESE FLAGS AS WELL AS THE REMOVAL OF OUR HISTORICAL MONUMENTS AROUND THE COUNTRY IS JUST ANOTHER ACT OF APPEASEMENT TO THE INTOLERANT, LIBERAL, AND OFTENTIMES VIOLENT LEFT WHO STRIVE TO ESTABLISH A FALSE NARRATIVE WHERE OUR STATE'S AND NATION'S HISTORY IS ONE DIMENSIONAL. IT IS NOT!
— Texas Agricultural Commissioner Sid Miller
On Friday, Grand Prairie-based Six Flags Entertainment decided to remove the Confederate states flag along with four representing Spain, France, Mexico and the Republic of Texas from Six Flags Over Texas in Arlington, as well as parks in San Antonio and Georgia. While the company operates 20 parks, those are the only three that flew all six flags representing the nations that have governed Texas.
The company reversed its 56-year-old policy after critical reports on TMZ, Fox News and others following the recent violence in Charlottesville, Va., centered around the proposed removal of a statue of Robert E. Lee. A woman was killed when a car rammed into a crowd of people after fighting broke out between groups of neo-Nazis, white supremacists and anti-fascist counter-protesters.
Saturday marked the first day of Six Flags Over Texas' 2017 season. The park is awaiting the opening of its highly anticipated new roller coaster The Joker, which is scheduled to open some time this spring.
"At Six Flags Over Texas, we strive every single day to make people happy and to create a fun, thrilling and safe family friendly experience for our guests," Six Flags spokeswoman Sharon Parker said on Friday. "We always choose to focus on celebrating the things that unite us versus those that divide us. As such, we have changed the flag displays in our park(s) to feature American flags."
Miller, known for his white cowboy hat and outspoken conservative beliefs, telegraphed his disappointment with Six Flags on a Facebook post earlier, saying that they would "be hearing from me about this issue."
By Monday, Miller had worked himself into a four-foot hover over what Six Flags had decided to do and issued a five-paragraph statement.
"Since 1961, the Six Flags Over Texas theme park has honored the Lone Star State by making these historic banners an integral core of the park's identity and appeal. By virtue of this decision by park management to lower these important symbols of Texas history, the company is implying that one should look upon them with shame and dismay," Miller wrote.
This file photo shows the Confederate States flag flying at Six Flags Over Texas. On Friday, Six Flags said only the U.S. flag will fly at the Arlington amusement park.
"I contend that Texas history is rich and colorful, while at the same time complicated and troubled, but when looked at in its totality, never shameful! The fact is that men and women of all origins and races fought and died under every one of those flags throughout our state's rich history, and to discount them and hide them away out of fear of what a band of socialistic fear mongers might say, dishonors the very memory of all that have fallen under them," he said.
"…We are watching before our very eyes the high-jacking (sic) and blatant theft of our state's history from our children, grandchildren, and future generations. I would admonish every public official and leader not to fall prey to the divisive scourge of anti-American militant protests, and to stand up for the unique, colorful, and complicated history of the greatest state in the greatest nation the world has ever known. It is my prayer that the management of Six Flags over Texas will reconsider their misguided and harmful decision," he writes.