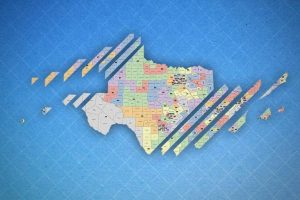 Parts of the Texas House map — including two Tarrant County districts — must be redrawn ahead of the 2018 elections because lawmakers intentionally discriminated against minorities in crafting several legislative districts, federal judges ruled on Thursday.
A three-judge panel in San Antonio unanimously ruled that Texas must address violations that could affect the configuration of House districts in four counties where lawmakers diluted the strength of voters of color. In some cases, the court found map drawers intentionally undercut minority voting power "to ensure Anglo control" of legislative districts.
These nine districts must be redrawn because of intentional discrimination:
▪ Tarrant County's District 90, represented by Democrat Ramon Romero, and District 93 represented by Matt Krause.
▪ Dallas County's District 103, represented by Democrat Rafael Anchia, District 104, represented by Democrat Roberto Alonzo and District 105, represented by Republican Rodney Anderson.
▪ Nueces County's District 32, represented by Republican Todd Hunter, and District 34, represented by Democrat Abel Herrero.
▪ Bell County's District 54, represented by Republican Scott Cosper, and District 55, represented by Republican Hugh Shine.
Adjusting those boundaries could have a ripple effect on other races.
The 83-page decision was the latest twist in a six-year-legal battle. The judges had already ruled that the Texas Legislature intentionally sought to weaken the strength of Latino and black voters while drawing the House map in 2011.
But the 2011 map never actually took effect because the court drew temporary maps ahead of the 2012 elections. State lawmakers formally adopted the map in 2013 with few changes. Texas has used that map for the past three election cycles.
In adopting the 2013 map, the court ruled on Thursday that lawmakers "purposefully maintained the intentional discrimination" found in the previous map.
The ruling came the week after the same court invalidated two Texas congressional districts — District 27, represented by Republican Blake Farenthold of Corpus Christi, and District 35, represented by Democrat Lloyd Doggett of Austin — and ruled that intentional discrimination against voters of color required those districts to be redrawn.
In both the congressional and state House rulings, the court ordered Attorney General Ken Paxton to signal whether the Legislature would take up redistricting to fix violations in the maps.
But so far, state leaders have signaled they have no appetite to call lawmakers back to Austin over mapmaking. Instead, Texas is looking to the U.S. Supreme Court to keep its political boundaries intact.
"The judges held that maps they themselves adopted violate the law," Paxton said in a Thursday statement. "Needless to say, we will appeal."
Meanwhile, the state and the parties that sued over the congressional districts are scheduled to return to court on Sept. 5 to begin redrawing the congressional map. In its Thursday ruling, the court indicated they should be prepared to also meet on Sept. 6 to consider changes to the state House map.
"Today's ruling once again found that Texas racially gerrymandered its voting districts and used Latino voters as pawns in doing so," said Nina Perales, vice president of litigation for the Mexican American Legal Defense and Educational Fund, who is representing plaintiffs in the case. "With the 2018 election cycle fast approaching, it's time for Texas to stop discriminating against Latino voters and agree to a remedy that will provide equal opportunity to all."
Thursday's ruling was largely a win for that and other minority-rights groups that sued the state, and it marks Paxton's fourth voting-rights loss in nine days. That includes the congressional map ruling, a ruling that tossed out the state's new voter identification law and a ruling that a state restriction on language interpreters at the polls violates the Voting Rights Act.
An open question is whether judges will approve new boundaries without delaying the March 2018 primaries. A delay could further shake up some races, with echoes of 2012, when Ted Cruz scored an upset victory, thanks in part to primaries delayed by legal wrangling.
Local elections administrators say they need clarity by October to meet deadlines for sending out voter registration cards, and December is the filing deadline for candidates.