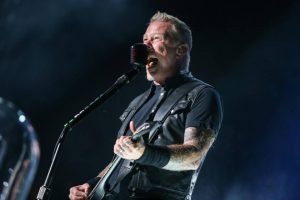 Metallica lead singer James Hetfield let an eager crowd at AT&T Stadium on Friday night in on the meaning behind one of the metal mainstay's new tracks, "Moth Into Flame" before the show took a righteous trip down Metal Memory Lane.
"This song is about fame and how it draws you in," Hetfield said, in a moment that might as well have described the last 25 years of the band's history. "But it's just a trap."
Being a Metallica fan since 1991, when the self-titled "Black" album brought metal into the mainstream — with over 16 million units sold — has been all about hanging onto memories of a belligerently youthful thrash sound now on the wrong side of 30. Even now that the band has something of an anchor in this millennium with its 10th studio album — "Hardwired … To Self-Destruct" —those epic tales of fire and ice and warfare and corruption were all anyone in Arlington wanted to hear.
But Metallica's first swing through DFW since 2009 was still very much in support of "Hardwired," which was released in November and continues to gain momentum in the metal world. It's a testament to Metallica fans, more than anything else, who have passed the band's torch down through generations to the point that kids who listen to Justin Bieber with their friends are now being loudly introduced to Metallica by their parents.
Even through AT&T Stadium's noted trashcan sound-scape, Metallica started the show with tracks from "Hardwired," opening with "Atlas, Rise!" before sprinkling in "Now That We're Dead," "Moth Into Flame" and "Halo on Fire."
Then Hetfield, Kirk Hammett & Co. took the crowd back to their early days.
Metallica leaned heavily on the mass appeal of the "Black Album," which makes sense because Metallica is one of those acts that understands it needs to play the hits. Its catalog is that wide, and with eight years between U.S. tours and an audience increasingly 40-something and older, many of those attending could be heard saying "this could be the last time I see these guys."
Sorry, folks, but this is not the time to debate whether the Black Album was Metallica's sellout moment.
Sure, purists are always going to pine for more of Metallica's authentic metal, including: "For Whom the Bell Tolls," "Master of Puppets," "One" and "Fade to Black." But because 10 of the 18 songs played were either from "Hardwired" or the "Black Album," Metallica had just a handful of chances to showcase the material that originally made the band stand apart from everything else going on in popular music in the 1980s.
One memorable moment of the show came when when Rob Trujillo started on "Anesthesia (Pulling Teeth)," from 1983's "Kill 'Em All," an album that preceded Trujillo's time with the band by 20 years. Trujillo played homage to Metallica's original bassist, Cliff Burton, who wrote the glorified bass solo interlude before he died in a 1986 tour bus crash at age 24, while forever-young images of the shirtless headbanger took over the center screen on Metallica's mega-panel of visuals behind the band.
Before that, "For Whom the Bell Tolls" pried open the eyes of anyone who came in unfamiliar with the first two cuts from the band's latest album. Later, "One," proved that its wartime imagery and over-the-top pyrotechnics are as devastating as ever nearly 30 years after an album titled "…And Justice For All" dropped a bomb on the Reagan era.
And "Fade to Black," if only a version bereft of its once great complexity on 1984's "Ride The Lightning," still highlighted the end of the show before "Blackened" lit the stadium aflame to open the encore.
It was a special night with a special band, and maybe all those North Texas fans were right — maybe this is the last we'll see of their brand of metal and mayhem.