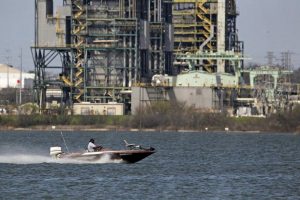 BlueStone Natural Resources II is dropping a plan to drill a saltwater injection well near Lake Arlington, a project that was widely criticized by residents and city officials as a threat to the area's water supply.
The Oklahoma-based company, which acquired Quicksilver Resources last year, said that while the application it filed in January is "technically and administratively" in compliance with state guidelines, it has decided to back away from the project for economic reasons.
"BlueStone has decided at this time it will withdraw its pending application for its Cravens SWD Well, in order to align optimal company growth and expansion opportunities," the company statement said. State records show that BlueStone withdrew the permit Thursday afternoon.
Officials with BlueStone were not available for comment Friday afternoon. The proposed well on the western edge of Lake Arlington would have collected excess gas and brackish, or salty, water produced by the company's natural gas wells in the immediate area.
Fort Worth, Arlington, the Trinity River Authority and other cities filed protest letters with the Texas Railroad Commission, which regulates the oil and gas industry, about drilling close to an "essential resource." The commission had scheduled a hearing before an administrative law judge in September.
Besides being a threat to the area's water supply, the well posed a threat to the structural integrity of the Lake Arlington Dam, the cities said.
The city of Fort Worth rejected BlueStone's application because it has a ban on wastewater injection wells.
Arlington also bans wastewater injection wells. It also prohibits any kind of drilling within 600 feet of Lake Arlington's reservoir area and blocks any "saltwater disposal lines" under the lake or within 100 feet of easement surrounding it.
The proposed injection well would have been located in an area of far east Fort Worth near Loop 820 about 9,300 feet from the Lake Arlington Dam. The nearby neighborhood is a mixture of industrial and residential areas. Not far away, on East Rosedale Street, are other oil and gas operations, including a large compression station.
BlueStone has said that there are other oil and gas operations in the area and that the well's location met the railroad commission's strict guidelines. The company said Friday that a beneficial community aspect of its plan is that it would have allowed the water to be piped, rather than trucked, to the well.
"BlueStone's proposal was to drill, complete, operate and monitor the Cravens SWD Well in ways that not only meet, but exceeded, the requirements imposed by Texas law and enforced by the Railroad Commission," its statement said. "BlueStone accomplished this by working with engineers and regulatory experts to ensure protection of the public health and safety and the withdrawal of the application was for business reasons alone."
Ingrid Kelly, an Arlington resident and a member of Liveable Arlington, said her group sent in more than 2,000 protest letters to the state. She was happy with BlueStone's decision, but skeptical. She wondered if they will be back.
"I'm relieved. I do not want this near our lake. There is way too much chance for our water to be contaminated," Kelly said.
Officials in Fort Worth and Arlington could not be reached for comment Friday afternoon.