Construction is scheduled to begin on Saturday, March 11 on the Sublett Road/Camp Wisdom Road crossover bridge at SH 360.
As construction begins, Sublett Road/Camp Wisdom Road crossover traffic will be switched to detour routes directly outside the current lanes of traffic. North and southbound SH 360 drivers will continue to use the current traffic signals and intersections.
Construction of the new bridge is expected to take six to nine months to complete. Once construction of the new crossover bridge is complete, construction of the new SH 360 mainlanes under the bridge can take place without impacting intersection traffic.
Construction and accompanying detours are weather permitting.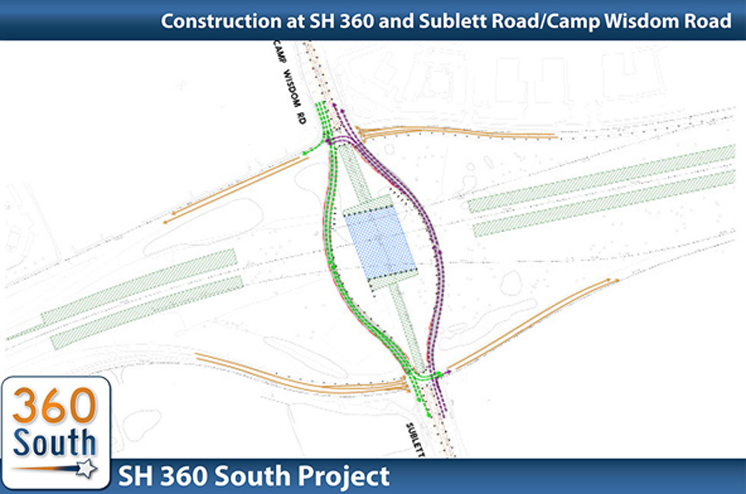 You can find information regarding all lane closures and construction activities on the project website, www.drive360south.com/lane-closures.
For the most up-to-date information about the project, construction updates and lane closures, visit the project website at drive360south.com, register for e-mail alerts, or follow the project on Facebook and Twitter.
About the SH 360 South Project
The SH 360 South Project is a $340 million design-build construction project in partnership with the Texas Department of Transportation (TxDOT), North Texas Tollway Authority (NTTA) and the North Central Texas Council of Governments and local cities and counties to improve mobility, enhance safety and connect communities. Once complete, the toll road will be operated by NTTA.
Beginning in fall 2015, the 9.7-mile project stretches from Green Oaks Boulevard to US 287. The project will provide through lanes that will improve mobility throughout the rapidly developing corridor in addition to improving traffic flow for local businesses and residents along the SH 360 frontage roads. Construction is anticipated to be complete in spring 2018. Construction management for the design-build project is led by the Lane | Abrams Joint Venture.